Hello.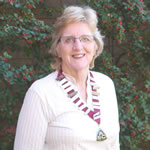 My name is Hilary Davis, President of the Sans Souci Speakers Club in Solihull and I'm delighted to welcome you to our website.
Sans Souci Speakers Club (Solihull) offers a warm and friendly atmosphere with a dedication to public speaking and presentation skills. As a member of the Association of Speakers Clubs (ASC), we support you through your Speakers Guide assignments. Whether you're just starting out, or an accomplished professional, we can help you boost your public speaking and presentation skills.
Our fortnightly club evenings, currently via Zoom, cover all forms of presentation skills, including:
Prepared speeches
Impromptu speeches
The art of chairmanship
At each session, you will gain encouragement and valuable feedback during your development from Level 1 (Making a start) to Level 10 (The Showpiece). But why stop there? Sans Souci also offers the opportunity to take part in the Midlands and UK National ASC competitions, where your talent as a Speaker can reach new heights.
Overall, our aim is to enable our members to become better speakers, better presenters and better leaders so why not join us today?
You can come along to one of our meetings, taking place twice a month in Solihull. For the 2020-2021 calendar please visit the upcoming meetings page. For more details please complete the online contact form.
Warm regards,



Sans Souci Club President